Bolf is a cousin of Rolf(Rain).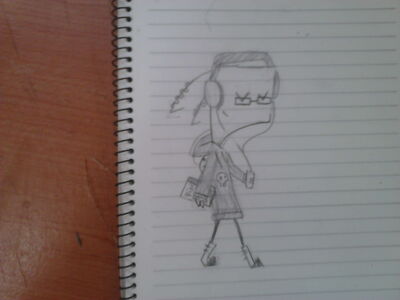 Bolf was succseeded the last test to be and invader but when Rolf was an invader years ago, while he was talking to the tallest they would sent Rolf to earth. Few weeks later Rolf  felt with rage he had problems Bolf tried to to stop him but he was too dangerous to stop. After destroying half of the planet Rolf wad sent to planet dirt. 
Earth history 
Edit
Before the rage he was sent to planet earth, after crash-landing on Dib's house roof Bolf and Luke (SIR Unit) nearly killed Dib for smiling very creepy and a large headed freak. Days later after Rolf escape he went to planet earth, Bolf and Rolf started skool with same class with Dib. Alomst every day Bolf punches Dib at recess before his crash.
Bolf

Gender

Male

Eye colour

Black

Race

Irken

Faction

Invader

Health

Good

Level

The level an official invader would be

Staus

Unknown

Location

Earth

Enemies

Dib, Gaz, Tak, MiMi

Interest

Reading, Listenting to music, People
Apeareance 
Edit
Same hieght as Rolf with black hoodie printed with a skull mostly he wears headphones
while he walks, several piercing on his antenae and with rectangular glasses.